Oral Health in Ireland (1999)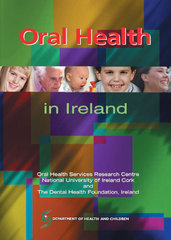 Download
Summary
"Oral Health in Ireland" was launched in 1999, by Mr. Jerry O'Dwyer, the than Secretary General, the Department of Health and Children. It was the first comprehensive source of information about oral health and oral diseases and conditions.
"Oral Health in Ireland" was published by The Dental Health Foundation, Ireland and The Oral Health Services Research Centre, National University of Ireland, Cork, in association with the Department of Health and Children. The publication contains information on current Government policy on public health and provides information on the current oral health status and oral health practices of Irish children and adults. It defines the determinants of oral health and disease and oral health terminology. It also cites common risk factors between oral health and general health and documents methods of disease prevention. It also provides recommendations on the appropriate use of consumer oral care products and detailed advice on nutrition and oral health.
This publication has been actively sought by dental and allied health professionals. One major factor mentioned by all involved was the need for a single publication in which the current scientific knowledge of the different oral diseases and conditions is presented. This publication will fulfil that need.